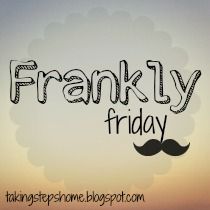 I couldn't make up my mind about what to be frank about this week. Since I have been pretty serious on the last two Fridays, I thought about choosing a lighter topic.
Grocery shopping came to mind. I love grocery shopping and thought about telling you why. But then, I thought, who really wants to read about that?
That's about as far as I got on "not so serious" topics.
Then, with the release of the iPhone 5 and pictures, status updates, etc. about it everywhere, I thought about getting frank about people's OBSESSIONS with technology.
Then, there was the birthday get together I had last night....Well, maybe that's what we'll talk about! (Up to this point, you have been brainstorming with me. Now, I have a topic and you get a real post.)
* * * * * * * * *
Last week, I turned 22. I was BUSY getting ready for a houseful of guests to arrive. I wasn't really in "celebrate" mode. I did manage to pull together one of my favorite meals. I had thrown some pork chops into the crock pot that morning. By the time evening rolled around I decided on shredding them and turning them into BBQ sandwiches (I had buns in the freezer). I added southern mac and cheese, watermelon, and sweet tea to round it out.
That night, I opened the gifts from my family and cards that others had sent in the mail. People called, my family ate dinner together, and that was that.
Well, last night was the night to "officially" celebrate. I was going to fix a torte (chocolate, peanut butter, cream cheese), but then decided I would just make a batch of brownies. From a box. There was also ice cream and coffee.
The time came to sit and visit with the friends that came and open the gifts they brought along.
One of my friends is an older gentleman from our church. He has two sons who are in their late 20's and neither of them are married or have any children. He has been a big part of my life for quite a few years. We talk theology and life and constantly challenge each other to think harder and grow in the Lord.
Anyway, he brought some gifts that really meant a lot. They were things of his Mothers. I didn't know his Mom, but knowing that he passed them onto me means A LOT. He has no daughters or granddaughters to pass them onto. As I was opening each one, there were instructions and stories. I almost cried!
Three simple gifts, a potpourri jar with fresh potpourri, a little heart shaped glass box, and a little gold "pill box".
The potpourri jar was just a nicety. The heart box was to signify my heart and that it belongs to the Lord and He is keeping it. The pill box, was that the way to a godly heart is through the renewing of the mind. He chose that because in WWII, the soldiers had a sort of "bunker" that was called a pill box. It was a place where they would be safe, but also be able to shoot at the enemy. So, God will protect my mind and heart and these gifts are a reminder of that.


Hope that makes sense. The point: they were special. A lot of thought went into them. And I love them.
I also got a gift certificate to a Christian bookstore and candle called "Southern Magnolia". It's burning right now and I love it. Not very fallish, but I got it for my birthday and it kind of reminds me of my Grandma's perfume.


Frankly:
I'm very sentimental.
Gifts that come from the heart are my favorite kind.
Getting together with people is always special. Even if you don't "feel" up to it.
22 is getting off to a pretty good start.


I can see why I take pictures at birthdays...This is one of the five pictures taken last night. And of course, I have a grimacy smile on the ONE that isn't dark!
Boxed brownies are pretty awesome.
BTW, here's a little something I saw today and it fits pretty nicely so I'll share it with you too!