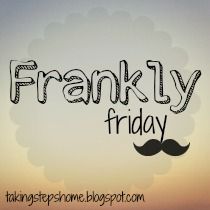 Yesterday a little something happened.
I witnessed person one (we'll call him Matt) accuse person two (we'll call him Aaron) of something.
It wasn't anything serious. Even if Aaron had done what Matt thought he had, it wouldn't have mattered at all.
Regardless, Matt needed to tell Aaron that he was sorry he had wrongly accused him.
Matt admitted something that stuck with me...Matt admitted that confessing that he was wrong and so had wronged Aaron, was difficult. Matt said that it was difficult because Aaron doesn't do that to him and probably wouldn't.
Let's be clear here, neither Matt nor Aaron are jerks. They are actually very close friends and tend to both be exceptionally nice to everyone.
Even so, Matt was uneasy about putting himself out there.
So, I was thinking, what about Aaron makes it hard for Matt to come to him?
Matt was afraid he wouldn't be forgiven. Matt was afraid Aaron would hold something against him.
As usual, I took it further....
What about me would make it hard for others to come to me to confess THEIR wrongs against me?
Yesterday's little happenings made me want to be sure to be the kind of person who doesn't make people reluctant to come to me. To be a person who readily offers COMPLETE forgiveness. No conditions. No grudges.
It's not enough to OFFER forgiveness. It's not even enough to offer COMPLETE forgiveness.
The key to being approachable is being humble. If I want people to expect me to lovingly and graciously offer complete forgiveness I must be one who ASKS for forgiveness.
Matt didn't want to put his wrongs out for Aaron to see because Matt couldn't recall Aaron putting his wrongs out for Matt to see.
Get it?
Be a person who ASKS for forgiveness and CONFESSES to others when you have wronged them.
That way, when it's their turn to come to you, they already know that a path has been paved between you.
"But I say to you that everyone who is angry with his brother will be liable to judgment; whoever insults his brother will be liable to the council; and whoever says, 'You fool!' will be liable to the hell of fire.
So if you are offering your gift at the altar and there remember that your brother has something against you,
leave your gift there before the altar and go. First be reconciled to your brother, and then come and offer your gift."
Matthew 5:22-24
Don't give those around you any reason to be angry with you. If you know you've wronged them, tell them. Ask them to forgive you.
Don't give those around you any reason not to come to you when they've wronged you. Build a pattern of honest, loving, and gracious communication. This way, if they know they've wronged you they won't be able to rest until they talk to you and get your forgiveness.
Pictures: Wet, rainy fields and roads of fall. Oct. 2012